Creator: Lisa Smedman & Kit Maloney
Exhibition: Inedible Cakes
Published: February 2020
Format: Sculpture
---
In this sweet game of Russian roulette, will the woman who emerges be pretty and en pointe… or will she pop out a surprise of her own?

Lisa Smedman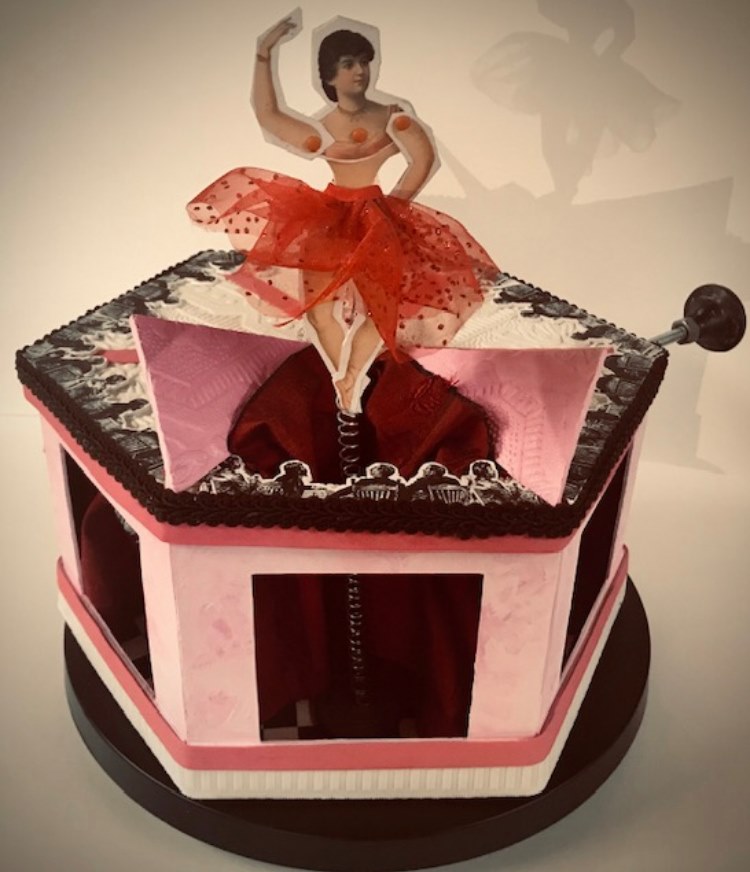 Description of the Work
Six women, contorted inside a cake. What are they thinking as they wait to "pop out" for the amusement of men?
Pop Out Cakes trace their history back to 1895, when "the girl in the pie" leaped out of a decorated cake made of galvanized iron for the amusement of Stanford White and his male guests. White was later shot by another man, whose fiancée had been raped by White at the age of 16, while she was unconscious from champagne.
Despite its notoriety, the pop out cake continued. An 18-year-old Debbie Reynolds popped out of a cake in the 1952 musical Singing in the Rain. The 1959 movie Some Like it Hot gave the tradition a twist, by having a tommygun-toting mobster pop out of a cake.
"Pop Goes the…" also takes inspiration from the jack-in-the-box toy, known in France as the "diable en boite" (devil in a box). The crank turns, the spring tightens, and anticipation builds – out pops a surpise.
Our cake features six chambers for six women. As the crank turns and the music plays, the cake revolves like the cylinder of a pistol. Who will be revealed? In this sweet game of Russian roulette, will the woman who emerges be pretty and en pointe… or will she pop out a surprise of her own?
Process Photos