Creator: Louise Chow
Exhibition: Selfie Series #4
Published: December 2021
Format: Digital Photography
Content Advisories: N/A
---
Rain, Louise Chow, 2021
Hauntology, Louise Chow, 2021
Blue, Louise Chow, 2021
Ritual, Louise Chow, 2021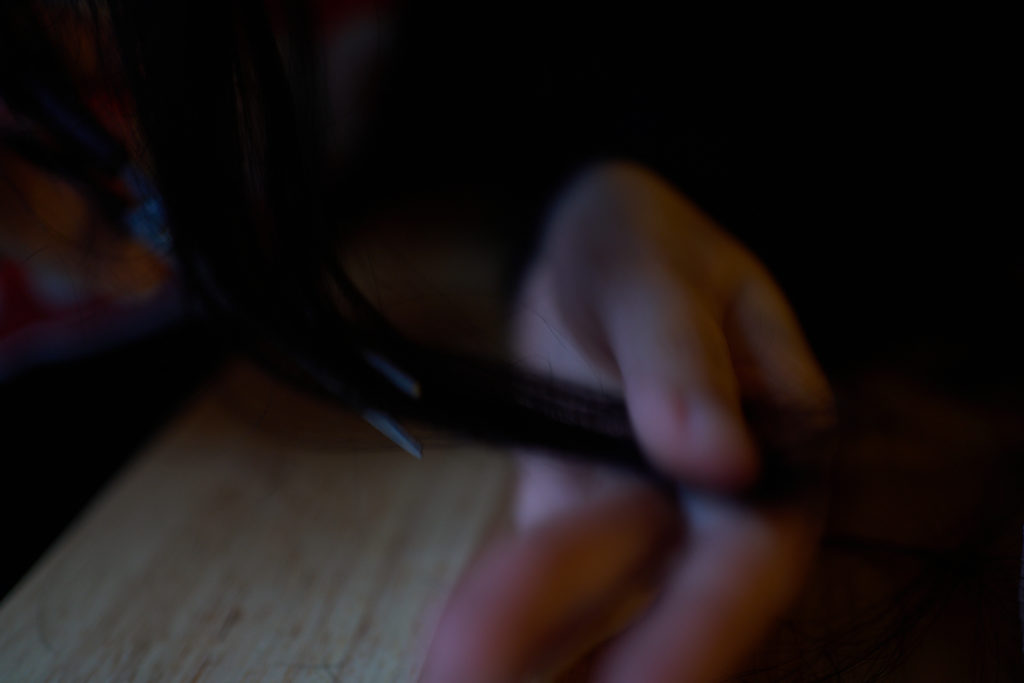 Graphic, Louise Chow, 2021
Artist Statement
Transcripts/Artist Response/Process and Format Notes
For this year's selfie series, I tried to avoid any images showing my face or allowing it to be shown unobscured. There are a few reasons for this. I felt self conscious about my presence on social media and in my small social life in general, and felt that I should be putting what I felt was content of value before anything that appeared self aggrandizing – ie, images of myself. So generally the prospect of doing a selfie series was full of tension for me. On a more positive note, in the past year I've fostered a greater sense of connection to my environment, and on an intellectual level my idea of self has expanded in a way that makes me feel dissatisfied with portraiture. Could self include parts of your body, like hair, that have fallen off, or the tool you are using to cut the hair? That's an idea I wanted to depict. This image was based on the 'ritual' prompt, which is essentially about change and transformation. This is a blurry closeup of my hair being cut with a pair of scissors visible.
Here, an image of the inside of a suite being cleaned, with the blurred suggestion of a person in the suite in various places.
In this image for the prompt hauntology, I didn't engage with the definition of 'hauntology' as used by critical theorists, but ran with what the word evoked. This is an image from one of my cleaning days in my old apartment as I moved out. I wanted an image of the past, where I was barely visible as a ghost – you can see that I am slightly visible in this long exposure image, but it isn't obvious at first glance.
The rest of the images are based on the following prompts: graphic, a close up of backlitfingers ajoined to create an abstract shape, blue, an image of me standing, obscured by a blue bag thrown over the camera, and rain, an image of me squeezing the water out of my hair outside in a damp environment. I am pleased with how the image for 'rain' turned out as a photograph – wet conditions can provide really pleasant soft light bounce and textural contrast for photography.
Overall this selfie series felt difficult, and regrettably I only produced 5 images, but I'm still glad I found something valuable in a few of these.
Project Files
Transcript to Exhibition Video.